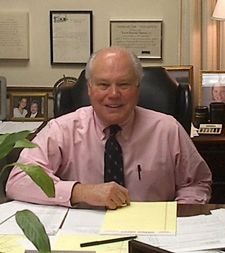 Associated Counsel of America (ACA) was founded in 1994 by Rob Rowland, a former managing partner in a major law firm and a leader in the legal profession for over twenty-five years. The experience he has gained gives him a unique insight into the staffing needs of law firms and legal departments from the client's perspective, which he has passed on to a dedicated group of staffing professionals.


Robert A. Rowland, III, the founder and CEO of Associated Counsel of America, is a licensed attorney who until forming ACA was in continuous private practice as a trial and appellate lawyer for over 20 years. He holds a B.S. degree from Texas A&M University and a J.D. degree (1972, with honors) from George Washington University. Following graduation from law school, Mr. Rowland served for a year as a law clerk to the Honorable John R. Brown, Chief Judge of the United States Court of Appeals for the Fifth Circuit (1973-74). After this clerkship, Mr. Rowland began his practice as a trial and appellate lawyer at Vinson & Elkins, one of the largest and most prominent law firms in Houston, as well as in the nation.


In 1981, Mr. Rowland left Vinson & Elkins and became one of the senior partners at Susman, Godfrey & McGowan, now Susman Godfrey, where he practiced as a trial and appellate lawyer for almost eight years. Susman Godfrey is one of America's leading and most successful litigation boutiques and has a practice which is national in scope. In 1989, Mr. Rowland left Susman Godfrey to open a Houston office for Johnson & Gibbs, later Johnson & Wortley, then the largest law firm in Dallas and one of the largest in Texas. As managing partner of the Houston office of Johnson & Gibbs from 1989 through 1991, Mr. Rowland successfully built the firm's presence in Houston from one to thirty-two attorneys.


In the latter part of 1991, due in part to the decline in the economic climate in Dallas which adversely affected Dallas law firms, Mr. Rowland left Johnson & Gibbs to again become a partner at a prominent Houston-based but statewide law firm, Hutcheson & Grundy, where he served as a senior trial and appellate lawyer, and as a certified attorney/mediator and arbitrator of all types of civil disputes. During Mr. Rowland's many years of legal practice, he had extensive involvement in attorney hiring and staffing, and in managing and staffing many litigation and other large legal projects for clients. He is also intimately familiar with (and has been published on) the concept of "partnering" between outside and in-house counsel in the cost-efficient handling of major legal matters.

Over the years since the founding of ACA, Mr. Rowland has worked with many of America's largest law firms and corporations in assisting them to hire top lawyers ranging from lateral hires one to five years out of law school up to and including senior partners at major law firms and general counsels of significant corporations. Additionally, he has worked with many large firms to identify groups of lawyers and smaller firms to acquire or merge with to form a new presence in major Texas cities or to expand an existing presence.